Create Space In A Tiny Kitchen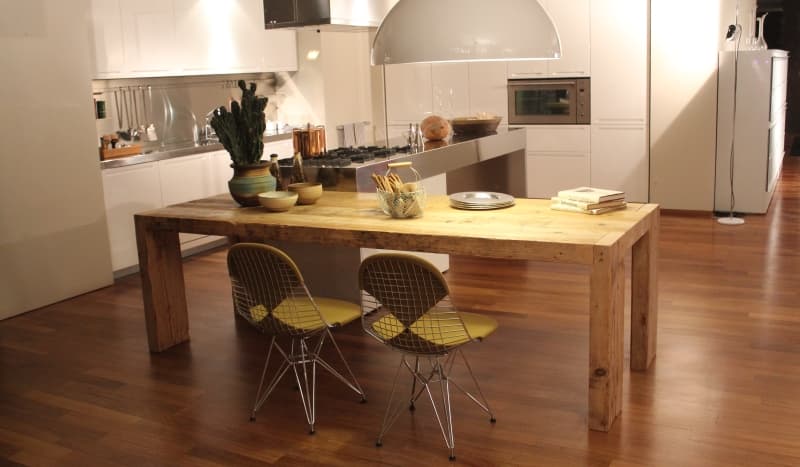 If your kitchen is small dont despair. There are things you can do to make it appear larger. Here we explore how.
Generally speaking, kitchens are the 'hub' of most households, we all tend to use them a lot and to this end it is vital to make the most of the space that you have available in your kitchen. If you are limited space-wise, it is possible to create space in tiny kitchen by using a few clever tips.
Having a tiny kitchen need not be the end of the world, by making a few small changes you can instantly create space and reduce your stress levels in the process! Let's face it, no-one relishes the thought of constantly bumping into kitchen appliances and worktops, so here are a few tips for create space in tiny kitchen.
Smaller kitchens will usually be in a galley style (often referred to as a corridor kitchen). This kind of design means that the cabinets/worktops will run along two walls that are facing one another, with any appliances such as washing machines and fridges fitted into gaps between the worktops.
Cabinets
You may be a little restricted as to the placement of the worktops, but you can certainly re-position your cabinets to make more space. For example; you can think about moving your cabinets higher up the wall so that some of your smaller appliances can fit better on top of your worktop. You can also fix some smaller electrical appliances directly onto the wall i.e.. many people with small galley style kitchens will fix brackets on the wall for their microwaves.
Shelving
Also think about getting some new shelving for your kitchen to maximise the countertop space available. As an example; you can fix shelving on the walls and use it to store your condiments, chopping boards, pans and just about any other item that you use on a daily basis.
Kitchen shelving is not expensive to buy and it can look great; pay a visit to your local DIY or home wares shop to find out about shelving that would best suit your kitchen requirements.
When you are buying kitchen shelving always consider the suitability of the shelves i.e.. make sure that they are sufficient to support the weight of any items that you wish to place on them and also check that they will easily fit onto your existing wall space.
Also think carefully about the depth of shelves, many electrical appliances will need a decent sized shelf to ensure that any items stored are safe, especially if you intend to put the shelf up above a worktop or any area that you frequently stand under.
De- Clutter
Try to de-clutter your kitchen wherever possible; if you have utensils or electrical items that you simply don't use, either throw them away or try to sell them. Many people have a range of items in their kitchen that they simply don't use and yet they take up a lot of space.
You may even find that you can make a lot of money from your unwanted goods on auction sites or at car boot sales. With careful planning, you can easily create space in tiny kitchen.