How To Sharpen Kitchen Knives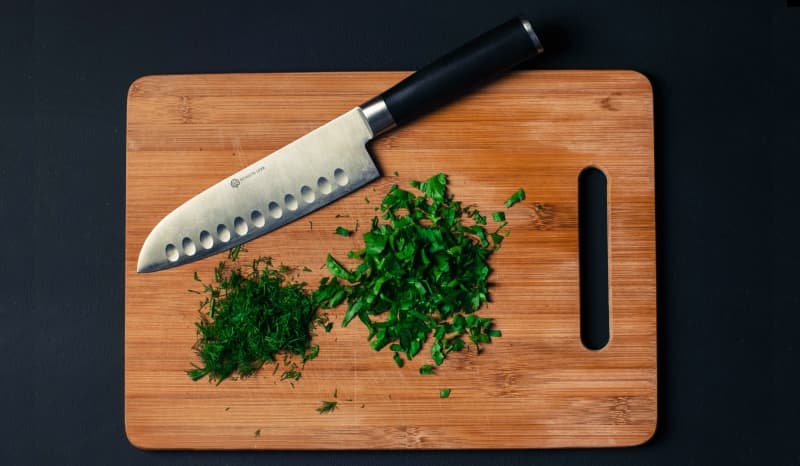 There is nothing worse than trying to prepare food with blunt knives, so what is the best way to keep those knives nice and sharp?
If you are a budding cook, or you simply tend to use your kitchen knives a lot for daily meals, you will no doubt need to sharpen your kitchen knives from time to time. Although many knives are advertised as never having to be sharpened, this is just a myth, all knives will eventually lose some of their sharpness, making them less effective to use.
There are many ways in which you can sharpen kitchen knives, however, some of these methods can result in part of the blade being lost, therefore making the knife un-useable. The best way to sharpen kitchen knives is to use a whetstone. For this task you will need a whetstone and sharpening steel (also referred to as "knife steel" or "honing steel").
Using a Whetstone
So, here's how you can easily sharpen kitchen knives using a whetstone. First you need to put the whetstone on a solid cutting board or on a countertop, with the grit (coarse) side face up. It is advisable to place a damp paper towel or thin damp cloth underneath the whetstone to stop it from sliding around while you are using it.
Using one hand you now need to tightly hold the knife by the handle and hold the edge point-first, against the whetstone, the cutting edge should meet the whetstone at a 22½-degree angle for the best possible results.
If necessary, stabilise the blade with your other hand; however, take care when you are doing this to avoid cutting your hand. To this end, it can be a good idea to wear protective gloves when you are sharpening kitchen knives.
Using a moderate pressure (don't push too hard or you may break the knife), slide the blade forward across the whetstone, ensuring that you cover the entire length of the blade and also making sure that the blade is constantly flush against the whetstone at a 22½-degree angle.
Repeat this process 10 times and then turn the knife over and repeat the entire process on the other side of the knife. Next, turn the whetstone over so that the fine grit side is facing upwards and stroke each side of the knife blade another 10 times on this side.
To finish the process of sharpening your kitchen knife, use a sharpening steel to hone the blade. When done, rinse the knife carefully to remove any particles of metal and wipe it using a cloth or piece of kitchen roll (again, be very careful when you are doing this to avoid cutting your hand).
By carrying out these simple steps you can quickly and easily sharpen kitchen knives and extend their lifespan; this can be ideal if you have a set of knives that you want to keep or if you use particularly expensive knife sets. Whetstones can easily be bought at DIY shops for a very small cost; however, it is vital to keep your whetstone dry (despite the name) as they work best this way.