Build Yourself A Home Gym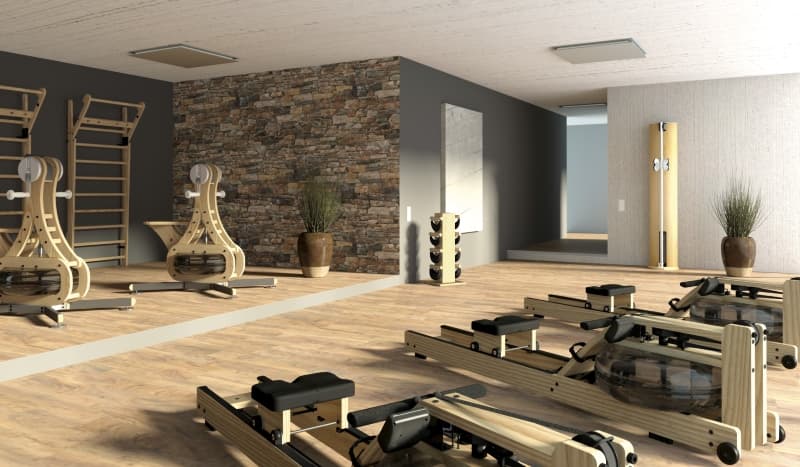 Discover how building your own home gym can help save you time and hassle in your local venue whilst encouraging you to workout more often and do the things you enjoy - rather than struggling through those that you don't.
There's no doubt that the costs associated with health club memberships are high. Therefore, if you are an avid fan of working out and keeping fit, you may want to consider building your own home gym in an effort to keep your costs down.
The Initial Outlay
Although you will need to spend money initially to purchase your gym equipment and prepare the room that you are going to use for your gym, over time, you may find that you save a lot of money by building your own home gym. Building your own home gym can be a somewhat daunting task; and to this end you will need a few tips to get you started.
How Much Space Do I Need?
The first important aspect to consider if you are thinking about building a home gym is the amount of space that you will need.
Ideally, you will need a free room for your home gym, in many cases, people will use a spare bedroom and this can be perfect; however, if you plan on installing a lot of heavy equipment, you may want to check that the floor will be adequate to support the combined weight of the items.
To this end, you may want to take a look at the floorboards, and if necessary, replace them before you start to purchase your new gym equipment. Additionally, you may want to decorate the room while it is still empty; you don't want to do this at a later date as it will probably involve moving a lot of heavy exercise equipment in and out of the space.
What Type Of Home Gym Equipment?
Next, you will need to think about the exercise equipment that you will need in your home gym. When you are looking for exercise equipment, always ask yourself the question – will I actually use it?
Many people buy expensive and bulky cardio machines and then find that they very rarely (if ever) use them. Not only can this be hard on the pocket, but they also take up space that could be used for more appropriate training equipment.
From treadmills and exercise bikes to elliptical machines; there are a wide range of home gym items on the market, so take your time to consider the correct equipment for your fitness needs (and don't forget to measure them to make sure that they will fit in your home gym!).
What About Key Accessories?
Additionally, you may want to purchase a few extra items, such as an adjustable fitness bench and floor mats – both of these items can be used to perform a wide range of exercises and can prove to be very cost-effective fitness items for your home gym.
Also think about getting a burst-resistant stability ball. Fitness balls are very popular exercise tools in recent years; they are excellent for abdominal exercises as they support the spine and isolate the stomach muscles.
Many people also opt to buy a set of dumbbells and free weights for their home gym. If you buy a range of weights, you can use them for number of different exercises and they need not be expensive to buy.
Is Second Hand Gym Equipment Ok?
Also take into consideration second-hand exercise equipment and components for your home gym. There's no reason to buy completely brand new items if you can get the same brands of equipment at a much reduced price.
You can find virtually 'as new' fitness equipment in a range of shops; including on a number of online auction websites. In many cases, you could save yourself literally hundreds of pounds by shopping around and comparing deals on both new and used exercise equipment, so research your options well.