Are Trampoline Parks Dangerous?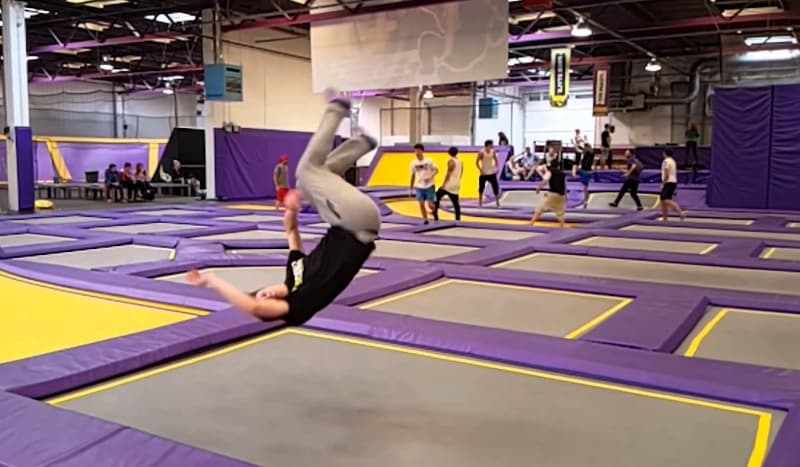 Hospitals are reporting an increase in injuries to children who use public trampoline parks. Evidence seems to suggest that they are worse than accidents on trampolines in private gardens. With the number of trampoline parks on the increase how worried should we be?
Sheffield Children's Hospital
Sheffield children's hospital kept records over a 6 month period and recorded that of the 198 trampoline injuries, 130 came from homes, 68 from indoor parks. However of the indoor park injuries 44% of them were fractures, compared to 36% from home trampolines. Most trampoline injuries seemed to come from the way the child landed. Trampoline park owners are keen to point out that they view the number of accidents as a small number put in the context of the number of total users.
Ambulance Call Outs
Last year, in research conducted by the BBC it was recorded that ambulances were called to trampoline parks in the UK more than 300 times in the course of a year. This when added to the research from Sheffield has raised questions of just how safe these parks are.
What is a Trampoline Park?
In a trampoline park you will normally find several large trampolines next to each other as well as slides, see saws and bridges to jump off. Many are a spin off from a craze that began in the US when the first trampoline park was opened in Las Vegas in 2004. The UK now has around 200 trampoline parks with an estimated 15 million users over a year. The growth has been phenomenal, but what is behind this growth?
The Growth of Trampoline Parks
One of the first reasons is that it appeals to all ages from toddlers and also adults. Jumping and bouncing is after all great fun! In addition parks cater for all celebrations from birthdays to corporate team building. They are also indoors so are not weather dependant and finally many now offer other facilities including basketball courts, dodge ball, and foam pits.
Safety Concerns
One of the concerns often expressed is that it seems a very unregulated industry. At the moment there are no safety regulations aimed at trampoline parks. There is however a voluntary standard.
The voluntary safety standard was designed by the British Standards Institute working with the Royal Society for the Prevention of Accidents, the International Association of Trampoline Parks and British Gymnastics. Many owners of some of the largest trampoline parks welcome some degree of greater regulation.
Common Injuries From Trampolines
The most common injuries from trampolining include broken arms, knees, dislocations and more serious neck injuries. Some doctors have commentated that nets around trampolines have given children a false sense of safety. One of the big concerns to doctors is that real damage can be done if you jump and land on your neck or head.
How Should You Ensure Your Child is Safe Trampolining at Home
The first thing to say is that you need to be aware that trampolining is a high risk activity. A net can prevent a child from falling off the trampoline but other good safety measures include only allowing 1 child on the trampoline at any time and never allow an adult on the trampoline alongside a child. Children must also be supervised at all times.
How to Stay Safe at a Trampoline Park
If you are going to a trampoline park there are 4 key safety tips. First of all only use a park that displays the IATP sticker. This means that the park is a member of the International Association of Trampoline Parks and therefore adheres to their safety code.
Ensure you and your children receive a safety briefing at the beginning and that your children take it seriously. A good safety briefing should take a good 15 minutes. Always jump within your ability and listen to the court monitors. On this final point it is important that your child doesn't attempt somersaults or flips for example if they are not competent to do so.