Sizzling Summer Food Ideas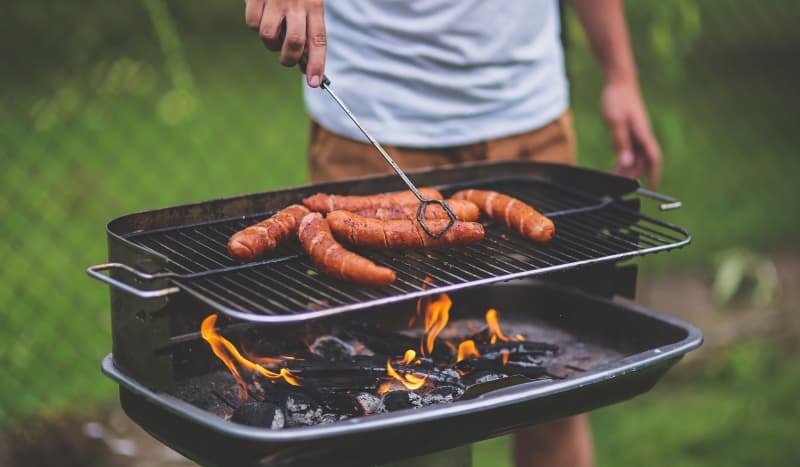 When the weather finally turns warm and the evenings are light until late, it's a great time to think about eating outside. But if you're stuck for ideas, why not check out our guide to great summer eating?
Summer's finally here and with it comes fresh, vibrant, mouth-watering foods. Planning a barbecue this year? There are loads of healthy chicken recipes to suit even the fussiest eaters.
Fire Up The BBQ
Just look up some online recipes for inspiration when preparing deliciously healthy food in time for the blisteringly hot weather this summer. Inviting vegetarian guests to your summer soiree? You needn't worry, as there are loads of great recipes for them to enjoy too.
No barbecue is complete without tasty kebabs. Prepare some delicious chargrilled chicken kebabs to ensure your barbecue goes with a bang. You'll need olive oil, boneless skinless chicken breasts (cubed), a courgette, one red pepper, some herbs and a bag of mixed leaf salad. Yum!
Don't neglect the seafood either. The perfect complement to a barbecue, bung some succulent tiger prawns on the grill and stick them on kebab skewers or serve with a fresh salad. Add some Cajun spice for a tasty alternative to traditional Marie Rose sauce.
With A Little Prep Time
Got plenty of time on your hands before your barbecue guests arrive? You could always prepare some griddled sea bass with tomato and herb salsa. Salsa equals summer so ensure it's hot and tasty!
You'll need some butter, the zest of one lemon, Fennel Seeds, around four (depending on how many of your guests like fish!) whole sea bass (gutted and scaled), sea salt and plenty of black pepper to season.
For the salsa, you'll need tomatoes (skins removed), two teaspoons of olive oil, one teaspoon of balsamic vinegar and two teaspoons of Italian mixed herbs.
Chuck In A Salad
Freshly prepared salads are the perfect accompaniment to barbecue food.
Allow your guests to dress their own salads by leaving various dressings and sauces on the table. Don't forget some carefully chosen wine and get some soft drinks in for the drivers among your barbecue guests. Cater for non meat eaters by checking out the great selection of vegetarian recipes to be found online. Peppers stuffed with cheese and spices make great accompaniments to any barbecue.
You could also prepare some tasty vegetarian skewers using delicious chunks of well seasoned courgettes, peppers and onions. Don't forget corn on the cobs served on skewers with deliciously creamy butter.
Though not a traditional barbecue recipe, why not prepare some fajitas with an array of vibrant fresh vegetables, cooling sour cream and salsa. Make them early and serve them as a pre-barbecue snack with a glass of white or red wine or some summery fruit punch. Choose the right fajita seasoning and your guests will be going back for seconds. Serve with nachos topped with cheese, as well as an ice cold beer.
Plan Ahead To Keep Cool
Do as much as you can to plan ahead and get your salads and sides prepared as early as possible.
Defrost food well in advance and get the outdoor table set. Don't worry if it rains, either - just ditch the barbecue and get the grill on. Bring the fun inside and get the karaoke machine plugged in. No-one will care once they've had a drink or two.
Healthy eating needn't be a bore with barbecue food. Grilled food is much healthier for you and barbecue food is quick and easy to prepare. Why not get your guests involved too. Fellas just love manning the barbecue so make good use of them, put your feet up and grab a glass of wine.
Serve with a fresh, well dressed salad and a cold glass of beer or lemonade. Get the kids involved in helping you prepare the cold food to help you out on the day of your party. It will save you time and they'll enjoy mucking in and helping mum and dad.
Get some outdoor games at the ready to entertain your guests, too. You can't go far wrong with a frisbee, or if your garden's big enough, a game of cricket.
If you fancy yourself as a cocktail queen, browse the Internet for some summer recipes to shake up the night. You could even prepare some non-alcoholic fruit juice 'mocktails' for the drivers and little ones!
Not great in the kitchen? You could always cheat and buy your side orders in pre-prepared. You could always pretend you've done it yourself anyway - no one will ever know!