Choosing The Right Bra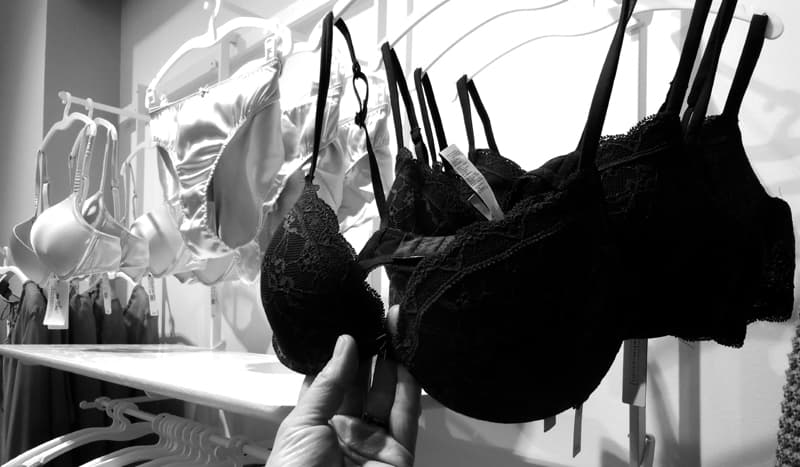 If you are buying a bra then you are faced with many different bra styles from plunge bras to balcony bras. Here we explore what the differences are so that you can buy one that is right for you.
The T Shirt Bra
The T shirt bra, as the title suggests, is a good bar to choose if you want a bra for everyday use that stays unseen. In this sense it is seam free and sometimes a little padded. This means that under t shirts there no lace on show or any textures.In fact the aim of the t shirt bra is to be invisible and not show under clothing.The benefits of a t shirt bra are that you have no bra lines, it provides good coverage under tight clothing and you can get a good cup shape due to the padding.
Balcony Bra
A balcony bra has wide straps which lift the bra from the bottom of the cup creating a good uplift. So this is a good choice if you are looking for lift and cleavage.A balcony bra is also good if you have lower breasts or simply breasts that have dropped. They are also good if you have some gapping in your cleavage as this bra will give you a good level of support.
Full Cup Bra
This is a good bra for every day use for those women who want a good coverage on their cup.They can come as wired or non wired. They give good shape and are great for women who have full breasts as you get good support and shape.What you don't get with this style is any cleavage or breast tissue on show. Another benefit is for women who have narrow shoulders as the straps are placed closer together so you don't get them slipping off the shoulder.
Plunge Bra
This bra supports the bust from the centre of the cups and therefore pushes the breasts together. This is the bra to choose if its cleavage you are looking for. So this is a good choice if you want cleavage on show for a low cut blouse or top.They tend not to be bras for everyday use but more for that special occasion.One good tip when you are trying on a plunge bra is to lean forward in it and check that your breasts don't fall out. If this happens the bra is not the right fit.
Strapless Bra
A strapless bra has no straps so is a great choice to wear under off the shoulder tops and dresses. Some women don't always find them the most comfortable bra to wear as whilst you don't want straps it is key that the bra is also comfortable and provides support. When you are looking to buy one do check what it will do as you can buy strapless push up bras, adhesive strapless which are great for backless dresses, convertible strapless bras which gives you straps you can put on or take off and bandeau bras which are usually made from one solid piece of fabric which goes all round the breasts.
Halfcup Bra
The half cup bra has cups that cover only half the breasts. They differ from the plunge bra as they are cut low across the whole cup whereas the plunge bra is only low in the centre.They can be a good choice if you want some cleavage but you want it to be more subtle than a plunge bra.These bras work well with low cut clothing but also provide good support and comfort.
Sports Bra
The sports bra is a bra designed to be worn when you are doing physical exercise. They should minimise breast movement and reduce damage to chest ligaments. It is crucial that you wear a specialised bra when you are exercising. This is because they will reduce any discomfort but also they will prevent your breast from sagging in the long term.Coopers ligament is the tissue in your breast that helps to uplift your breasts. Damage to this ligament can cause the sagging but the key message is that often the sagging is irreversible. So look after your breasts and always wear a sports bra.
Nursing Bra
A nursing bra is designed to be worn for when you are breastfeeding. They allow you to expose your nipple for breastfeeding without having to remove the whole bra.So what should you look for in good nursing bra? The first advice we would give is to always get yourself re measured for a nursing bra, if the bra is too tight for example this can cause your ducts to become blocked.Features to look for include wide straps that wont slip, cups that you can open and close with one hand and an opening that gives you plenty of room to feed your baby.