Viagra - The Little Blue Pill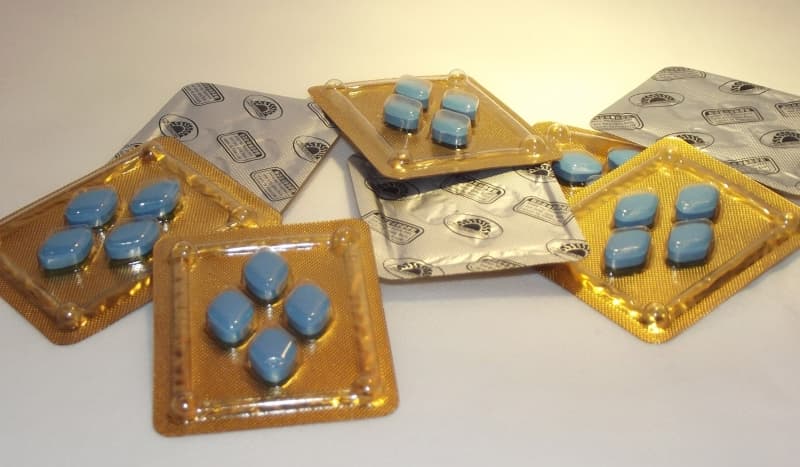 Over the past 20 odd years there's a lot been written about Viagra - the small blue pill that offers so much in terms of helping those with impotence. But do you actually know how it works and why it's still being used by millions of men?
Viagra, also known as the 'little blue pill' first hit the mass market in 1998. Since then the word Viagra has become a part of our language and is one of most well known drugs in the world. It has transformed the lives of many men suffering from erectile dysfunction. Here we examine what it is and how it works.
Erectile Dysfunction(ED)
Erectile dysfunction often referred to as ED or impotence is the inability some men have to have an erection to allow sexual intercourse to happen. There are many reasons for ED, some causes are dependent on the age of the man. In younger men it can be associated with anxiety, in middle aged men the reasons can range from stress or diabetes and in older men it can be caused by a narrowing of the blood vessels that carry blood to the penis.
This last point is an interesting one as research now shows that some men with ED may also have a deterioration in the arteries of their brain or their heart. It is important to understand that getting an erection is quite an involved process.It requires signals to go down from the spinal chord to the genitals.The blood vessels supplying the penis are then told to open up and blood flows in. A valve prevents the blood from flowing out again until sexual intercourse is over.These processes can easily be affected by many factors, both physical and emotional, causing ED.
How Many Men Are Affected By ED?
Research suggests that up to 21% of men are affected by ED, which is 4.3 million men.
Treatments For ED
There are a number of treatments available depending on what your GP believes the cause of the ED is. If for example there are psychological causes then counselling or psychotherapy may be the best solution.
Other treatments can include injections into the penis and pellets inserted down the urinary pipe. These methods are not so popular with men as the oral drugs available are quite simply easier to administer. The oral drugs available include; Viagra (Sildenafil); Cialis (Tadalafil); Levitra (Vardenafil); and Spedra (Avanafil).
What Is Viagra?
Viagra is one of the oral drugs that can be used to treat ED. It contains the ingredient sildenafil and works by widening the blood vessels so helping to get more blood to the penis thus helping men to get an erection. The science behind how it works is as follows. When a man is aroused a chemical called cyclic GMP is produced. This chemical relaxes and widens the blood vessels in the penis so that blood can enter and an erection can take place. Cyclic GMP is normally broken down in the body by an enzyme called PDE5, Viagra works by stopping this enzyme from breaking down the cyclic GMP.
It is presently the worlds most popular drug for treating ED. There are different strengths available depending on the weight of the man The largest comes in 100mg doses.
How Do You Take Viagra?
Most men will start by taking one viagra 50mg tablet, or a doctor may prescribe a 25mg tablet.The tablet needs to be taken one hour before you wish to have sex and can be taken with or without food. The key thing to remember about food is that if Viagra is taken after a big meal it will take longer to work. Viagra should not be taken more than once in 24 hours.
What Are The Side Effects Of Viagra?
A side effect does not mean that everyone will be affected in the same way. Many men take Viagra and suffer no side affects but some do. Very common side effects include headaches, common side effects include dizziness, blurred vision, indigestion and feeling sick. Uncommon side effects include sleepiness, vomiting, muscle pain and a rash and rare side effects include loss of hearing, fainting or a seizure.
What Should You Know Before Taking Viagra?
It has now become easy to buy Viagra online. Whilst for many men this may avoid the embarrassment of seeing a GP about ED it may also mean that many men may not be aware of the side effects mentioned above. So for example as Viagra in some men can affect vision and cause dizziness it is not advisable to operate machinery until you are fully aware how Viagra affects you.
For some men Viagra may also not be the answer. For example if you have had a heart attack or stroke Viagra may not be suitable for you, or if a man has low blood pressure, severe liver problems or if you are allergic to any of the ingredients. Even if you buy Viagra over the counter it is always advisable to see your GP to ensure that you are right to use this drug. Some men may be suitable to use Viagra but their usage may need to be monitored. Men who fall into this category include men who have kidney or liver problems, heart conditions, active peptic ulcers or bleeding disorders.
Should You Buy Viagra Online?
Most experts agree that it isn't a good idea to buy Viagra online.The main reason for this is that you don't know what you are buying. In fact in 2016 £17 million of counterfeit Viagra was seized highlighting that many men may be being deceived as to what they are purchasing online.Some men are also obtaining Viagra to deal with issues like sexual satisfaction, stamina and performance which is not the same as ED.
The advice is clear, the best action is to obtain help from a medical source so that you can be sure that Viagra is right for you and you can be checked after you have taken it.
Viagra Over the Counter - Viagra Connect
Viagra is now available over the counter, this product is known as Viagra Connect. You have to be aged 18 or over and have to have a chat with the pharmacist. Packs of 8 tablets can be bought and the cost works out roughly to just under £5 a pill. This move is seen as successful to to the fact that so many men with ED do not seek out any medical help. In fact the latest research suggests that 44% of men aged 40 or over who have ED will not see their GP. So buying over the counter may be a better than buying an unknown product online.
The advice is always however that if you have any concerns over ED seek advice from your GP.