How To Find A Trader You Can Trust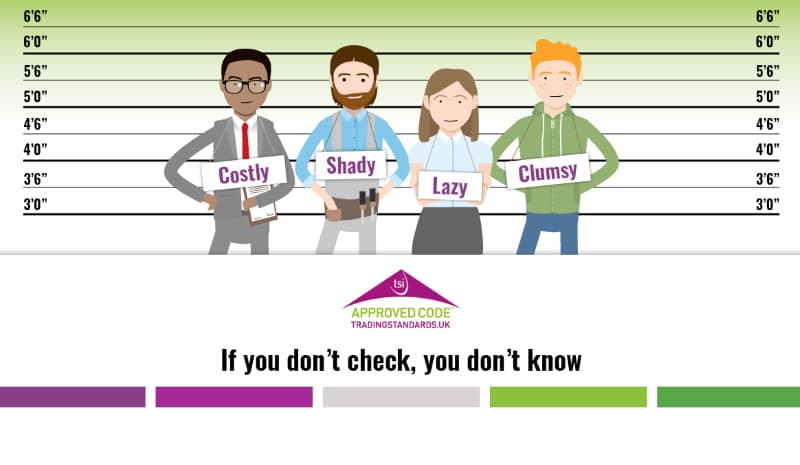 It's a dog eat dog world out there, with lots of people posing as "trusted" businesses and trades people – trying to reel you in with all sorts of tricks to get you to part with your money
in exchange for sloppy work or in worst case scenarios – scamming you completely by making off with your money and not doing any work at all.
Unfortunately, these types of scenarios are not just urban myths. Action Fraud reported 7,085 cases of people being defrauded by doorstep sellers and bogus tradespeople between August 2017 and July 2018.
What's The Best Way To Find A Trader Who's Trustworthy?
Your first port of call should be to check out the Consumer Codes Approval Scheme's online directory for a list of approved members. Businesses that are a member of a code sponsor within the Consumer Codes Approval Scheme (CCAS) are more likely to practice higher levels of customer service and have a commitment to consumer protection by adhering to codes of practice which should provide re-assurance to those seeking their services. It can also be a more reliable indicator of quality than online reviews for customers, plus all members work is backed up by a robust complaints and ADR procedure. Look out for the CCAS approved logo when doing your homework.
CCAS have just launched a new campaign called "If you don't check, you don't know". The campaign stars Clumsy, Costly, Shady and Lazy – characters which represent the four main types of rogue traders that people complain about - and who they want you to be able to recognise and avoid when engaging a business or tradesperson for their services.
This campaign is designed to encourage consumers to check before they engage traders and companies to work for them and help them to sort "the sheep from the goats" when choosing a trader.
To find out more go to https://www.tradingstandards.uk/consumercodes
Local councils and trade associations can also give you a list of approved traders in your local area. If you've already started talking to a company and they say they are a member of a scheme – either over the phone, on their website or on any of their branded materials – then check the schemes website to make sure they really are a member. You can also contact AgeUK – they have a trusted trader scheme in place and can sometimes offer handyperson services too.
Often the easiest and safest way to find a reliable tradesperson is through word of mouth – ask your friends and family for personal recommendations for companies they have received a good service from.
When doing your research, be sure to do the following:
Get a few quotes from different companies or trades people and make sure they quote you for exactly what will be included so there are no surprises and you know what you are getting for your money (for example labour and materials).
If one of the quotes is significantly under market value then be wary, rogue traders are known for significantly lowering their prices to undercut the market and it is a tactic they use often to draw people in.
Ask for reference and speak to some of their previous customers.
Have a look at how long they have been in business.
Check their credentials and trade licences. For example, boiler engineers must be Gas Safe registered.
Find out what their preferred payment methods are and watch out for any companies that request cash only or the full amount upfront.
Once you've chosen a company and engaged them for the work, ensure that a written contract is put into place before any work takes place or money changes hands, especially for any medium to large jobs, make sure you insist on a legal contract that can offer you protection if anything goes wrong.
Lastly – some traders may knock on your door unexpectedly looking for work – be extremely wary and politely say no and close the door.