Colour Schemes for Bedrooms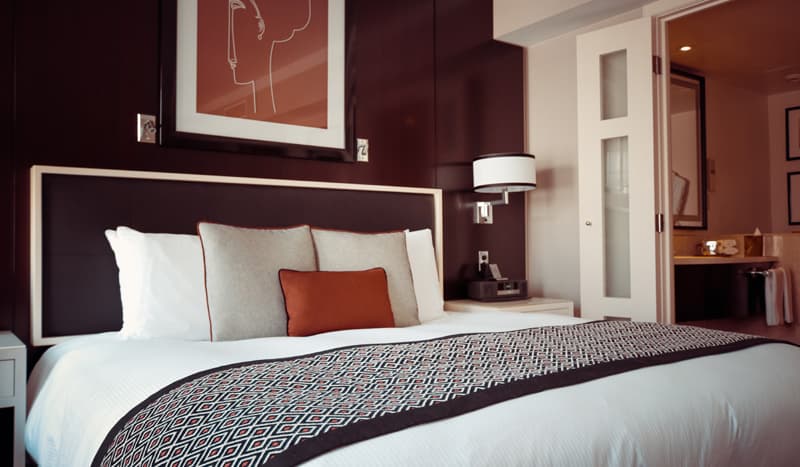 The colour of your bedroom is important, it needs to be a room you can relax and ultimately sleep in. But that doesn't mean you need to use dull or boringly muted colours. See our quick guide to get some ideas.
If you are thinking about decorating your bedroom, one of the first things that you will need to consider is your preferred colour scheme. By getting colour scheme for bedrooms right, you can create a stunning and unique look for your home.
When you are thinking about the colour scheme for bedrooms that you would like, you will need to consider a number of things; i.e. you will need to choose a colour for the walls, ceiling and flooring in addition to picking out curtains, bedding and any other soft furnishings.
How To Find The Right Colours
Choice of colour will always be subjective. WIth some colours varying between rooms in your house based on furnishings or whether the room gets direct sunlight during the day also.
The best tip for choosing a colour scheme for a bedroom is to research your colour options carefully before you start to decorate. This means you need to think about your 'likes' and 'dislikes' as well as considering existing furnishings, bed linen or even pillows. Try to create a colour 'palette' for your room by looking at ceiling, walls and floor colours to ensure they go together.
You can pick up sample colour swatches at any local DIY store and in some interior design stores or specialist paint centres like Farrow & Ball. Always, awlays, always buy a few test pots before you go head long in to your decorating project - you may find the colour that looks great on the swatch really isn't on the walls of your bedroom.
Small Room?
As a general rule, neutral shades of white or other paler colours will work better in smaller bedrooms. Using lighter colours gives the impression of more space and doesn't 'close in' the room. Making the space seem bigger provides a slightly more calming effect on most people. You can also cleverly use mirrors to further enhance the feeling of space.
The shade of white you want will depend on personal taste and your furnishings. For example using a white tinged with blue will make the room seem colder - great if it's south facing and gets all the sun all day, colder if it's on the north side of the house and doesn't see any direct sunlight!
What About Wallpaper?
If you decide to use wallpaper for your bedroom there's two key things to think about. Firstly, are you going to cover all your walls in the wallpaper, or just a feature wall? Secondly, will the pattern clash with exising furniture or
There's also a third consideration, if you are going to be putting the wallpaper up, that's all about how the pattern will repeat. Wallpaper stretches when it's wet with the glue, meaning very complex designs will be hard to match. Even more so if you have rooms with complicated wall shapes and alcoves. Lastly, if you're doing this for the first time, maybe stick to vertical stripes if you're worried!
Bold Colours
If you prefer to be a little bolder with your bedroom colour choice, you can pick just about any colour that you want. From bright greens to moody purples and greys, it really is down to personal preference. Also, you don't have to stick to one colour for your entire bedroom i.e. your walls, flooring, bedding and curtains.
Some of the best designs are fairly simple, but use complementary colours i.e. browns, creams and beiges work very well together as do pinks and purples. Alternatively, you may decide to keep your bedroom walls very plain and add colour by using bold or patterned curtains and other accessories; this can be a great option should you wish to change your bedroom colour scheme in the future.