How Long To Cook A Turkey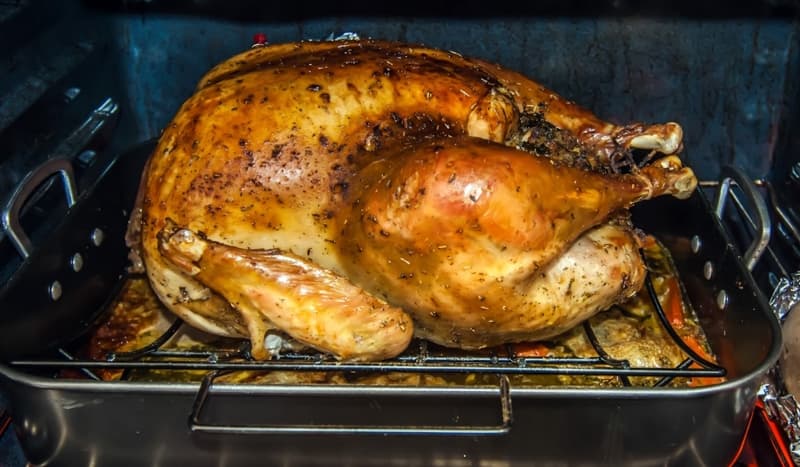 Whether it's during the year or only at Christmas time, cooking a turkey correctly is an important issue. A healthy lower fat meat than chicken, it also has a host of other benefits.
Why Choose A Turkey?
If you discard the skin of the turkey once cooked, you have a 'white meat' that's very low in fat. Typical turkey meat has around 70% white meat to 30% dark meat. You also get a great source of iron, potassium, phosphorus and zinc, along with vitamin B6 and niacin. All this from a turkey that can taste better than chicken if you cook correctly.
Turkey's are certainly popular at Christmas or Thanksgiving as they are the traditional meats. However, increasingly families are enjoying them all year round. When it comes to cooking a turkey, many of us face the same dilemma, how do you cook a turkey and how long do you cook it for?
How To Cook Your Turkey
Cooking a turkey need not be a difficult task, as long as you have a few helpful tips. Turkey's can be expensive to buy, depending on the time of the year and the size that you buy, so you will want to cook it to perfection in order to fully enjoy it. You don't want to end up with an undercooked or overcooked Turkey – it can completely ruin a meal!
So, a delicious roast turkey is not difficult to achieve, but you will need to start by preparing your turkey correctly. The first thing to remember is to weigh your turkey after you have added the stuffing, this will enable you to correctly gage the required cooking time. When you have added stuffing (if required) and you have weighed your turkey, you will have the option to add a few extras i.e. many people like to add strips of bacon when they are cooking a turkey to add a little flavour. Alternatively, a little butter or oil should be added to the turkey joint and it should be loosely covered in foil for the best possible cooking result.
It's In The Preparation
Whilst preparing your turkey joint, save time be preheating your oven to 190°C (180°C for fan assisted ovens), 375°F, Gas Mark 5 and finding a suitable baking tray or tin for the turkey. General guidelines for cooking a turkey are; if your turkey weighs less than 4kg in weight you should cook it for 20 minutes per kg and then add another 70 minutes cooking time at the end.
If your turkey weighs more than 4kg in weight you should cook it for 20 minutes per kg and then add another 90 minutes cooking time at the end. Additionally, you should remove the foil from the turkey for approximately the last 40 minutes – this will help to brown the top of the joint.
This is a great general guideline for cooking turkeys, however, following are the precise cooking times required for turkey joints (listed as the weight of the turkey joint, followed by the recommended cooking time):
2kg (4lb 7oz) - 1hr 50mins
3kg (6lb 10oz) - 2hrs 10mins
4kg (8lb 13oz) - 2hrs 50mins
5kg (11lb 0oz) - 3hrs 10mins
6kg (13lb 4oz) - 3hrs 30mins
7kg (15lb 7oz) - 3hrs 50mins
8kg (17lb 10oz) - 4hrs 10mins
9kg (19lb 13oz) - 4hrs 30mins
10kg (22lb 1oz) - 4hrs 50mins
Naturally, ovens will vary somewhat, depending on their type and individual specifications, so you should always test your turkey to make sure it is thoroughly cooked before you serve it.
A great way to do this is to pierce the thickest part (usually the leg of a whole turkey) with a sharp skewer or pointed knife and hold a spoon underneath to catch the juices as they run out of the turkey. If the juices are clear, the turkey is cooked and ready to eat, if they are pink, the turkey requires further cooking. When you are sure that your turkey has been cooked for long enough, you should allow it to stand for 15-20 minutes in a warm place. By doing this, you will make the turkey joint much easier to carve and it won't go cold.
Finally, you can carve your turkey and enjoy your meal!