Types of Video Poker Games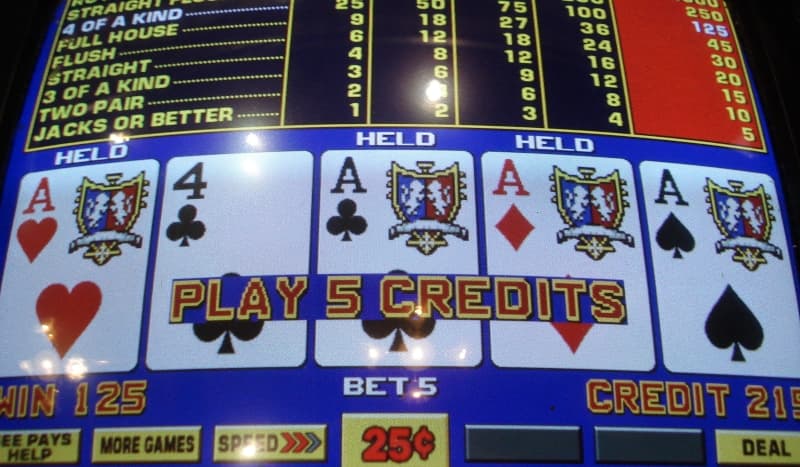 Found in almost all casinos, the types of Video poker games vary theme-wise but all follow a similar system. Usually based on five-card poker, although in recent years, due to the exploding popularity of Texas Hold 'em, some machines are now based on that version of the card game.
Video poker is played on a computerised console similar in size to a slot machine. Decades ago, however, the "ancestors" of video poker were machines that operated on springs and wheels, just like slot machines.
Today's video poker machines generally employ some version of five-card draw.
Are There Other Variations?
In a word, yes there are and here are some of them:
Deuces Wild
A variation in which a deuce is wild and the top jackpot is awarded for four 2's or for a natural royal
Multi-play Poker
Game in which the player begins with five cards, and each subsequent hand draws from a distinct group of cards. There are multi-play games available in Triple Play, Ten Play, Five Play, Fifty Play, and One Hundred Play.
Any More Versions?
There are both wild games and non-wild games in video poker. In the non-wild versions, a player who plays about five hands in an hour might receive a 4-of-a-kind about once an hour. This same person might have to wait many days or weeks before he receives the quite-rare royal flush.
Some other advanced forms of video poker are Multi-Hand, Mega Multi Deuces Wild, Mega Multi-Hand, and others. In Mega Multi Deuces Wild, there are a maximum of 100 hand combinations. This is, in effect, as if you were playing a hundred different machines at the same time.
Regardless of what kind of Video Poker you play, it's usually fairly easy to play. Most people who know the basics of regular Poker with cards can play the video version, since the most complicated part is learning the hand combinations.
How Do I Get Started?
This is easy. Start by inserting your money and then choosing your bet. You can look for the 'on screen' bet button. There are generally two of these :
Bet 1 Credit
Bet Maximum Credits
After betting, you press the button labelled "DEAL."
Once you decide to hold the cards you have, you press the HOLD button.
If you still want more cards, you can discard and hit "DEAL" again. You keep Dealing until you're satisfied….then the computer will let you know how well you did.
Useful Links
GamCare - www.GamCare.org.uk
Gamble Aware - www.gambleaware.co.uk
Gambling Awareness - www.gamblingawareness.org.uk