Visit Positano On Amalfi Coast, Italy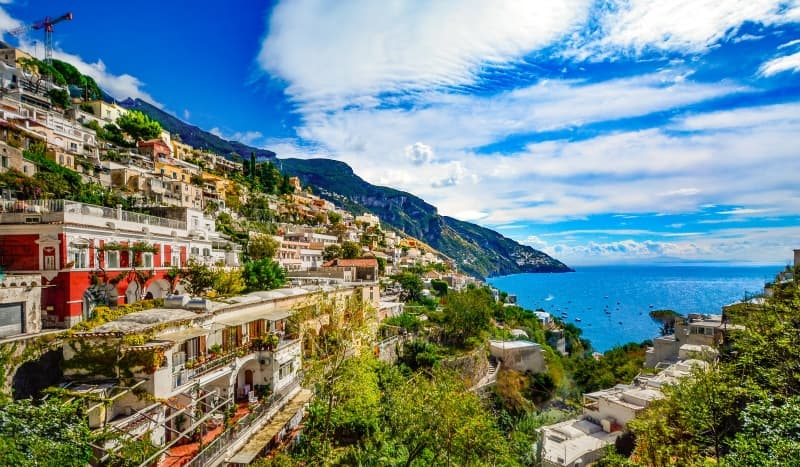 Italy is always a great bet for a summer break, but have you visited Positano on the Amalfi Coast? Known for the steep cliffs and villages overlooking the sea, from luxury houses to guest houses, you are really spoilt for choice.
Positano is an amazingly enchanting urban tourist destination beautifully perched upon a hilly enclave on the Amalfi coast in Campenia, Italy. With a rich history and offering an amazing opportunity for photo shooting, Positano attracts thousands upon thousands of visitors all year round.

For an unforgettable experience every other tour consultant will often advice on planning your visit during the spring, at time when all the heavens lets its beauty be manifested on the little Italian town with an infinite number of rare species growing amidst the already lovely cypress trees.
Touring The Town
Getting about is never difficulty as the Positano's hill is networked with well-maintained public footpaths and stair cases crossing the lemon terraces. There is also a local bus that goes down and up the hill along the meandering road giving you a lovely view of the town. When travelling to the beautiful Positano town, you have three options; by bus, private car or you can take a ferry. To travel by bus you have the options of boarding one from Salerno or Sorreto.
Both buses passes through some of the most ravishing country and for amazing views you are advice to take a site next to a right hand side window when you are starting from Sorrento and next to a left hand side window when from Salerno. Unfortunately, the bus doesn't get into the town and you have to take a taxi or the local bus to your hotel. A point to note is starting April when the peak season begins the local bus is normally crowded and at times you have to wait for a couple of hours for it.
Book Ahead For Naples
When you are coming by a private car you are always advised, to book for parking slots in advance as they are always crowded especially during the peak season. You can also take a ferry from Naples although it is a bit expensive if you are an economy travel but the journey is worth it as you set your eyes upon some the world's most breathtaking views. If you ever travel to Italy, make sure you visit this beautiful destination.
What Type Of Accommodation?
There are all kinds of accommodation facilities in Positano; from the grandest villas to bread and breakfasts. For economy traveler the bread and breakfasts are the cheapest and some of the best are the B&B Mamma Rosa located in Montepertuso on top of Positano and is famous for its lovely views overlooking the Amalfi Coast and Capri Island. And the Casa Celeste situated near the Grotto of Fornillo and features an Italian lifestyle. For hotels you will have several fine choices, the historical California Hotel Positano housed in a building originally build in the 18th century is perhaps one of the finest hotels around. It has 15 guest rooms and has both double and quadruple rooms. Another beautiful option is the Conca d'oro Hotel which is an ancient villa with a wonderfully attractive garden. Or alternatively you could pick on the Hotel Casa Albertina Positano which is a fine three star hotel with 20 bedrooms and also houses a family room capable of hosting a family of four.
Italian Food
If you are into local Italian flavors then almost any restaurant in the entire Positano is ideal for you. If it is your first visit then you might consider trying out the Da Costantino situated on top of Positano and offers a beautiful view of the entire Positano and the sea below. And does offer an ideal array of Italian flavors and is far more pocket friendly. The Da Vincenzo serves some of the best fresh fish dishes in the entire Italy and if you love the food here then you might also consider visiting the Mediterraneo, which is renowned for offering local seafood dishes at very competitive prices. For drinks and an array of music, there are several bars and clubs around the town.
The town of Positano harbors several attraction sites that include Positano's two beaches and enjoy the serene view of the ocean as you have fun with an array of water games. Better still, take a boat trip, and have a lifetime taking photos against backdrop of the beautiful port